By: Dale Barr Featured in: Looking Good Magazine
It's springtime. Time for flowers, rain, NCAA March Madness and, in CrossFit circles, time for the CrossFit Open. The first stage of the CrossFit Games, the Open is a five-week tournament geared toward every age and skill level, ages 12 to 60 and up. If our only exposure to CrossFit is what we see in the CrossFit Games on television not many of us would want to get near it. It's amazing what those athletes can do. Not many people can accomplish 21 power cleans at 205 pounds and 28 ring handstand push-ups all in under 12 minutes. It's craziness! To me it's like any pro sport. Just because we can't do what professional football players can do in the NFL on Sundays doesn't mean we stop playing catch with the football in the backyard.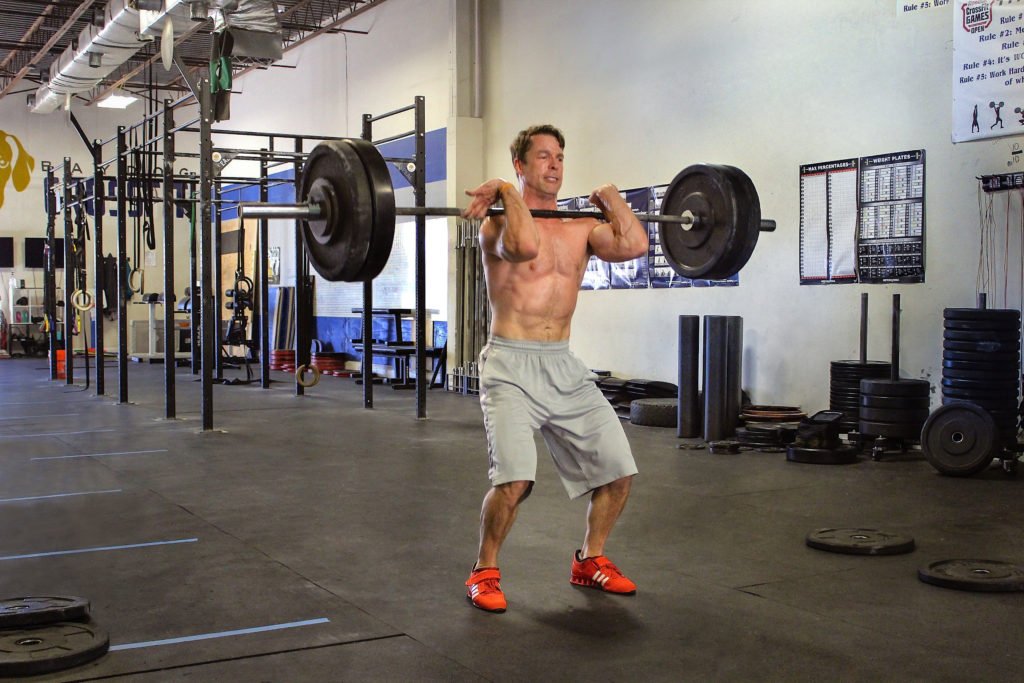 Still, people tend to be intimidated by CrossFit. They've seen or heard it's too intense with lots of heavy weights and difficult exercises (like those mentioned above) and they feel like they don't have any business going into a CrossFit gym. But no matter the sport or exercise program, you need to try it out for yourself. Every good CrossFit gym (or box as they're called) will bring you on board and up to speed in a way that matches your fitness level and ability.
Most boxes are composed of people ages 12–60+ who are going to school, working or raising kids, and they've come to CrossFit just like you to get fit. "Fit" or "fitness" as defined by CrossFit founder Greg Glassman is increased work capacity across broad time and modal domains. This means the work must be measurable and you must do more work—move more weight, do more reps, go farther distances all in less time. If we don't have something to track and measure then we fall into the endless cycle of exercising and dieting while making no progress in the long term. This is how we tell if an exercise program is working.
CrossFit is constantly varied functional movements per-formed at high intensity: squats, push-ups, pull-ups, sit-ups, gymnastics, weights (both barbells and dumbbells), plus rowing, jump rope, running, and biking. A good CrossFit box will have certified coaches knowledgeable about teaching you these functional movements. This will be your foundation, learning how to move your body well in space through all manner of movements. Good coaches will progress you slowly and when appropriate.
CrossFit's aim is to get you ready for anything life can throw at you. GPP, General Physical Preparedness, means you can do a little of everything. It's better to be well rounded versus only being really good at one thing. It's not very useful in life to be able to run 20 miles if you can't even squat a barbell, or the inverse of squatting 400 pounds but can't run one mile without wanting to throw up.
This is what the CrossFit Games and CrossFit Open are
designed to test, to find the fittest person in the world—someone who can do everything well. If you want to be stronger and healthier and are sick of the normal group classes and monotonous cardio programs then CrossFit is a perfect way to change it up.
Take a long view when starting any new program and treat it as you would marathon training. You don't run the race distance on the first day: it takes months. Fitness and health is a slow process that requires consistency and patience. It doesn't matter what it is, if you want to learn barbells lifts, swim, golf or, in this case, CrossFit, the mentality is the same; start at the level you're at, learn the basics and slowly challenge yourself. Like a scorecard in golf, you'll only know you're getting better if you track and measure what you're doing. Good luck and I hope to see your name in the next Open.
Dale Barr is a devoted father of two young boys and has committed himself to staying active and fit, while helping others do the same. He has been a personal trainer for more than 10 years and has coached CrossFit for five years. He finished the 2017 CrossFit Open ranked 186th in the world in the Masters Men 40–44 age group. The top 200 qualify for the four-day regional event starting April 20, 2017. The top 20 from the regional advance to the CrossFit Games. For more information on Dale Barr's fitness program, visit d3fitness.com. To learn more about the CrossFit Games, visit games.crossfit.com.