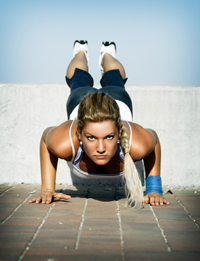 My training style is tailored for you whether you are a former high school or college athlete or a current weekend warrior.  My goal is to challenge you no matter what your fitness level is.  I use athletic based, High Intensity Interval Training (HIIT) with an emphasis on both Core and Functional movements.  Be ready to be challenged with a full-body workout from every angle.  I use free weights, TRX bands, medicine balls, physio balls, body-weight resistance and a variety of cardio moves to keep you guessing and your heart pumping!  Start moving again, lose that unwanted weight, burn fat, and best of all — have fun doing it.
I love training each type of client regardless of your goals and I feel fortunate that you've allowed me to be a part of achieving them.
[button link="https://d3fitness.com/training-options/" bg_color="#db0000″]View Training Options[/button]

TRAIN SMARTER!
Dale Barr (DB) –
About DB
Talk: (443) 924-6446 |
Write
Schedule a Workout